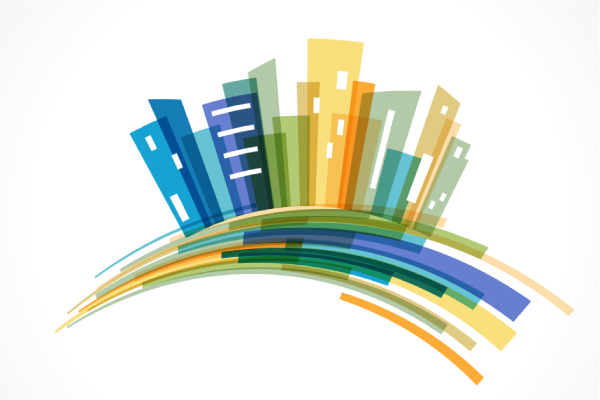 I imagine a future of pyramid buildings, so everybody gets a terrace with a vast sweep of sky, and so we have more green with the building than would be on the ground without the building. There's a network of…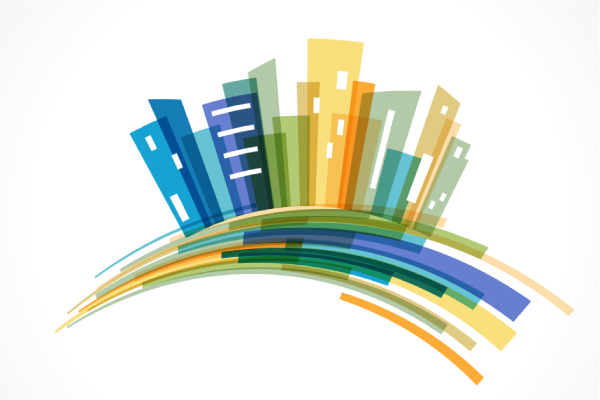 (Image: VectorStock)
I imagine a future of pyramid buildings, so everybody gets a terrace with a vast sweep of sky, and so we have more green with the building than would be on the ground without the building. There's a network of sensors zipping data on soil moisture and air quality back to the brain of the city, joined by data from all manner of other things – like electric (or pedal powered) shared transit that has no need for a left nor a right hand lane – the vehicles swarm like swallows.
We can be smart with each of these data sets. But what if we want to explore the relationships between the data sets? Maybe we'll find something interesting in a cross reference of the movement of people, with air quality, and geographic data on health – just one example.
Why we need an interoperable IoT ecosystem
Copy
Across the city, there're multiple IoT platforms serving different applications with different technologies and standards. This fragmentation makes it difficult for applications to talk to each other. To derive full value from IoT investments, open standards are needed. Lighting, parking, security, the grid, all need to be talking the same language. Municipalities and businesses all need to be on board. With an interoperable IP ecosystem, there's a broader range of vendors, meaning pricing is favorable, projects more feasible, and continuity of supply is better assured. Network equipment can also be reused across many applications, and different applications can share data more easily, and interact to enable smarter functionality.
When IoT applications talk the same language
Copy
New projects and benefits for citizens will increasingly come from the data we're getting from existing solutions. Data from 'x device' can inform data from 'y device', making us wise to 'z'. But many of the possibilities in these intersecting data sets we'll know nothing about unless 'x' is talking the same language as 'y'. With devices all talking the same language, the possibilities are now limited only by our imaginations, or by the imagination of AI, when we feed it with:
Environment data: With data on emissions and airflow, AI predicts pollution levels, and recommends measures to improve air quality. This is an answer to particulate matter (microscopic solid or liquid particles hanging in the air) which is damaging to the lungs, and a problem in many cities. AI can also monitor and help ensure water quality, and detect energy wastage, recommending measures to save energy.
Transport data: AI optimizes public transport routes, which reduces costs, and gives users more accurate arrival times and a better experience. Different networks – buses, rail – are integrated into one app. Deep learning algorithms predict traffic build up, and recommend alternative routes to private drivers, to prevent congestion, which also cuts down on emissions. Lights stay green longer when they need to, to ease traffic. AI enabled cameras and traffic violation systems help reduce accidents.
Parking data: IoT and AI informs drivers where they'll find a parking spot. A nicer experience, and no belting out of fumes driving around the block looking for a spot. Ticketing processes are more efficient, too.
Waste management data: Trash never used to be anything exciting; 'tis these days. Sensors monitor levels, making collection more efficient, and strolling down the street we no longer have the not-so-sweet aroma of overflowing bins. AI also makes more efficient the sorting of recyclables.
Water management data: Sensors monitor water levels in tanks, condition of pipes and pumps, water pressure, and groundwater levels, to optimize water management, improve water quality, and save water with repair personnel getting to leaky pipes sooner.
Security data: Static cameras and drones detect criminal behavior, and identify and track criminals.
Projects making Smart Cities real
Copy
Many projects within these categories are well underway:
Exploring the interrelationships between datasets
Copy
Many people used to believe that AI would take the blue collar jobs first, and never really evolve to be creative. But the reality is looking very different. Exploring interrelationships between datasets from applications such as those above, to figure out ways citizens can benefit, is a creative job, and AI is good at this type of thing. I don't expect AI to take the creative jobs, but rather be a creative partner to humans. We need the help of AI to work our way through all that data, find patterns, and find new solutions. For that, we need all the nodes to be talking the same language – Internet Protocol.
This is the base on which solutions can continue to evolve in the years and decades to come. An open standards, collaborative ecosystem supported by a certification program for interoperability is vital for effective data governance and seamless interworking. This is how the smart city can flourish. It's one thing we're laying the groundwork for at plgd, with our open source, open standards IoT platform built for interoperability.